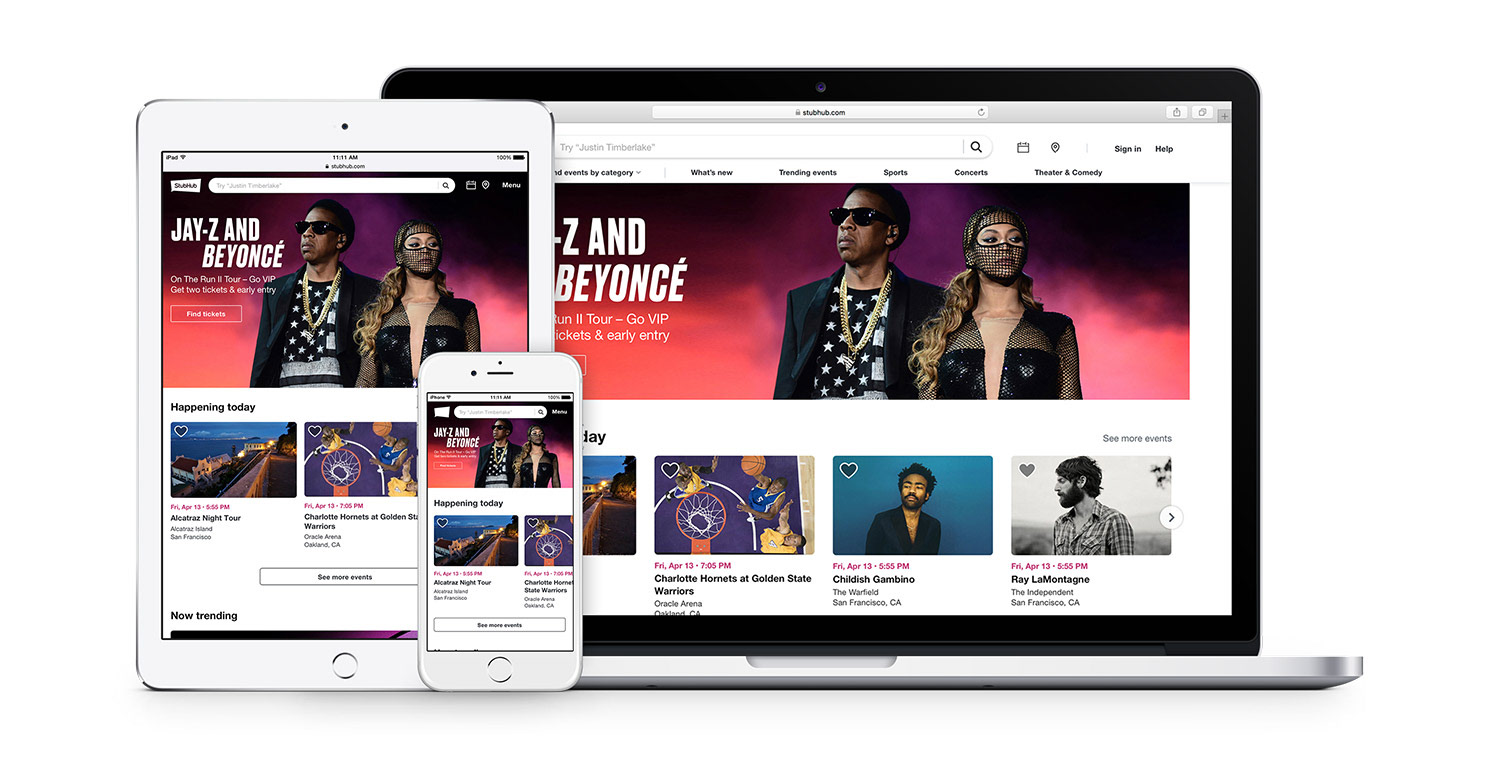 What is the Event & Performer component?
The Event & Performer component helps event-goers quickly discover relevant events that they would want to attend. 
Create a home page with relevant event listings that would help encourage users to attend events they had not planned for. The
component would be customizable and reusable, speeding up design and development time. It would also set the base elements of the design system and have parity with the native platforms.
• User Research:
User journey mapping, usability testing, and user interviews
• UX & Visual Design:
Key user flows and wireframes, high-fidelity mocks, and interactive prototypes 
• Product Strategy:
Partner end-to-end with product manager, data analytics, and engineering team 
The team mapped out four user journeys and looked for opportunities in the journeys that would benefit by encouraging discovery. The user journey helped create a shared vision with the team, and helped us
formulate this problem statement:
Problem statement: 
We believe

[ people looking for events ]

have a problem

[ finding and choosing an event ]. 


We can help them by

[ showing them events recommended thematically ]. 


We'll know if we're right if

[ more people click through to the event page and conversion increases ].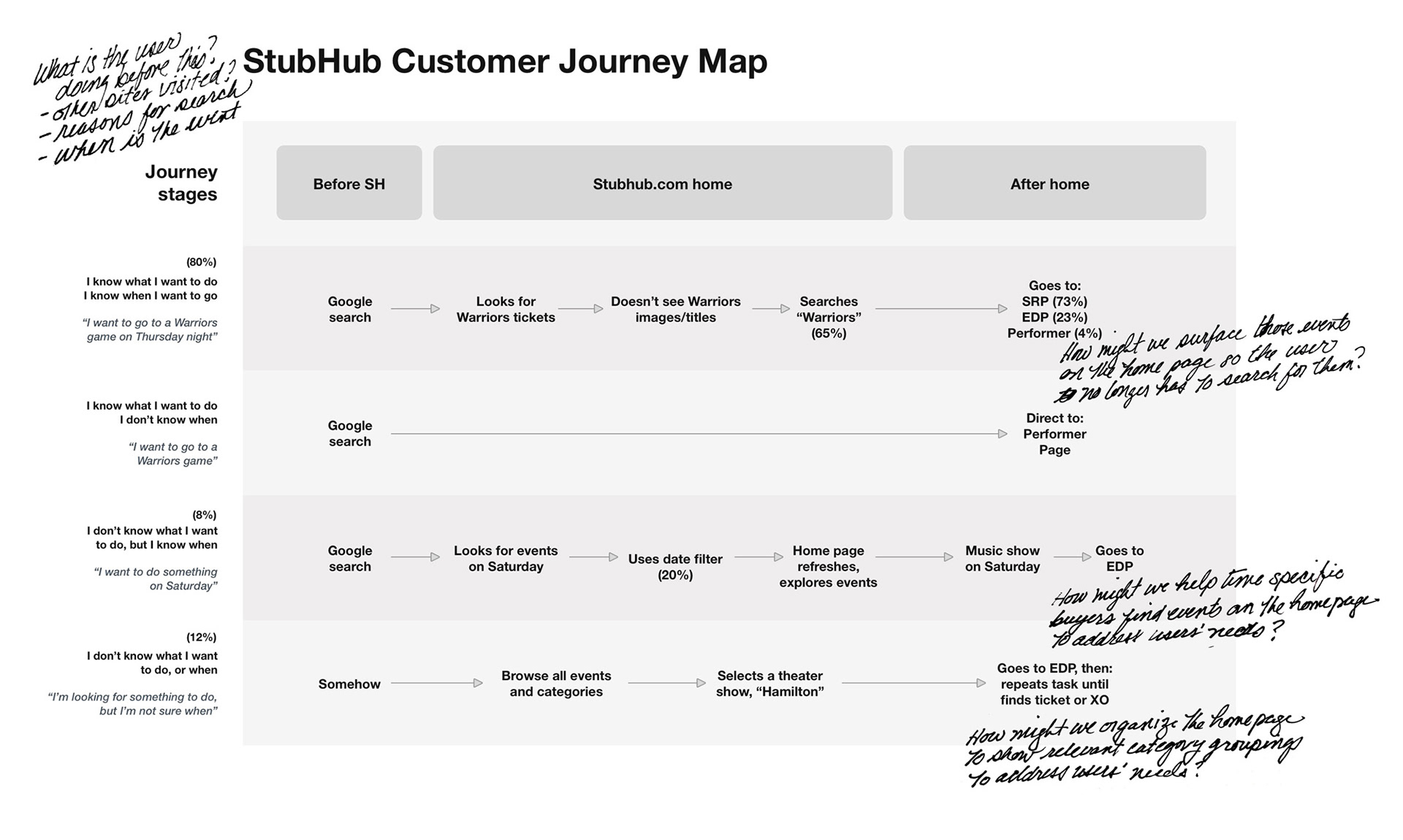 User interviews and usability testing
We conducted user interviews and light user testing with the goal "How do people discover events to attend?." We also wanted to find out general perceptions of StubHub, how people use the product, and their wants and needs
The research surfaced several patterns and themes, and we generated many insight statements that gave us a wider view of the user journey and the opportunities for StubHub to address unmet user need and desires.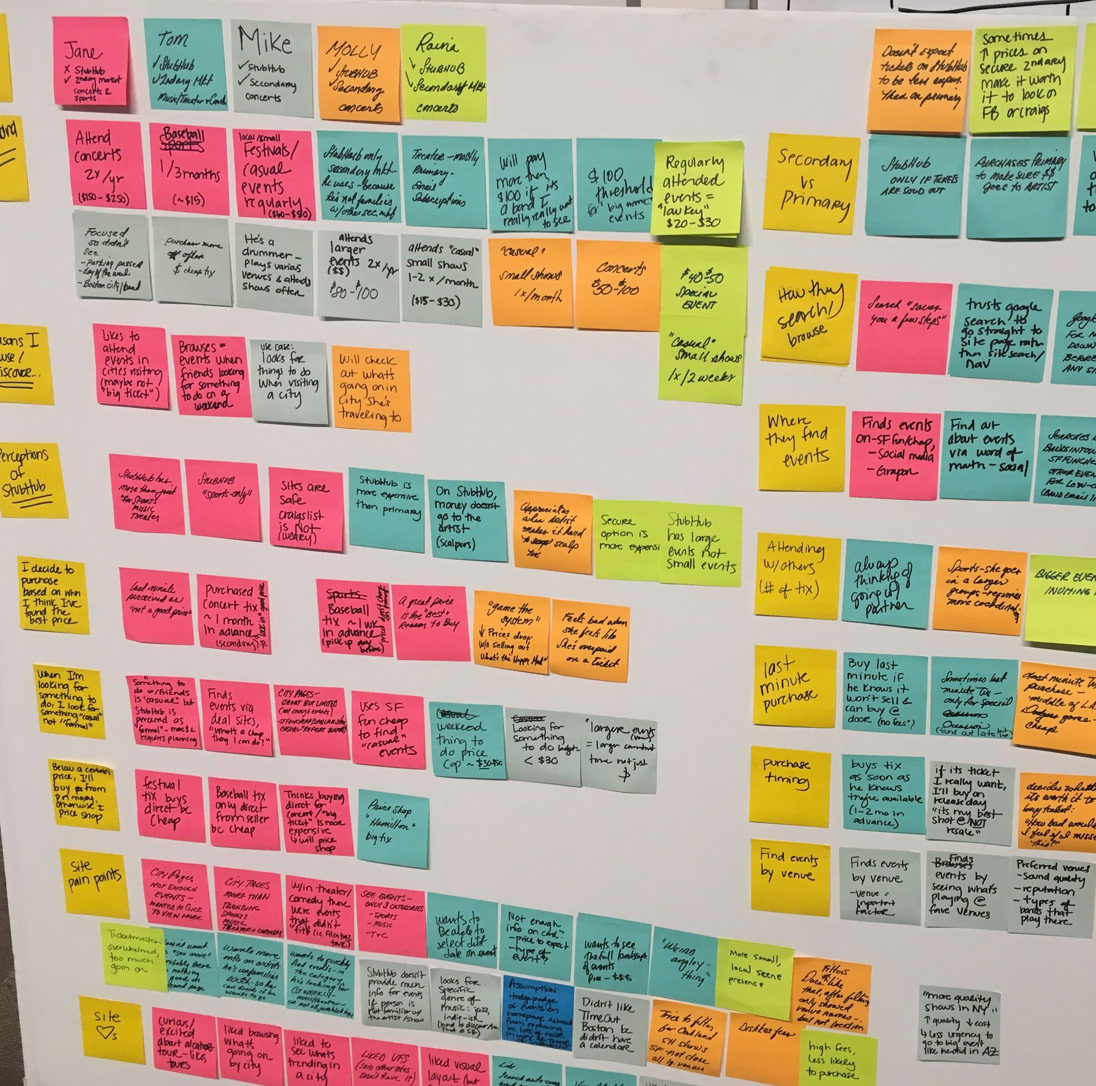 Personas paired with the user journey through the product helped the team and stakeholders understand the
key actions within the app while staying anchored on the user outcomes, and not just focus on the features.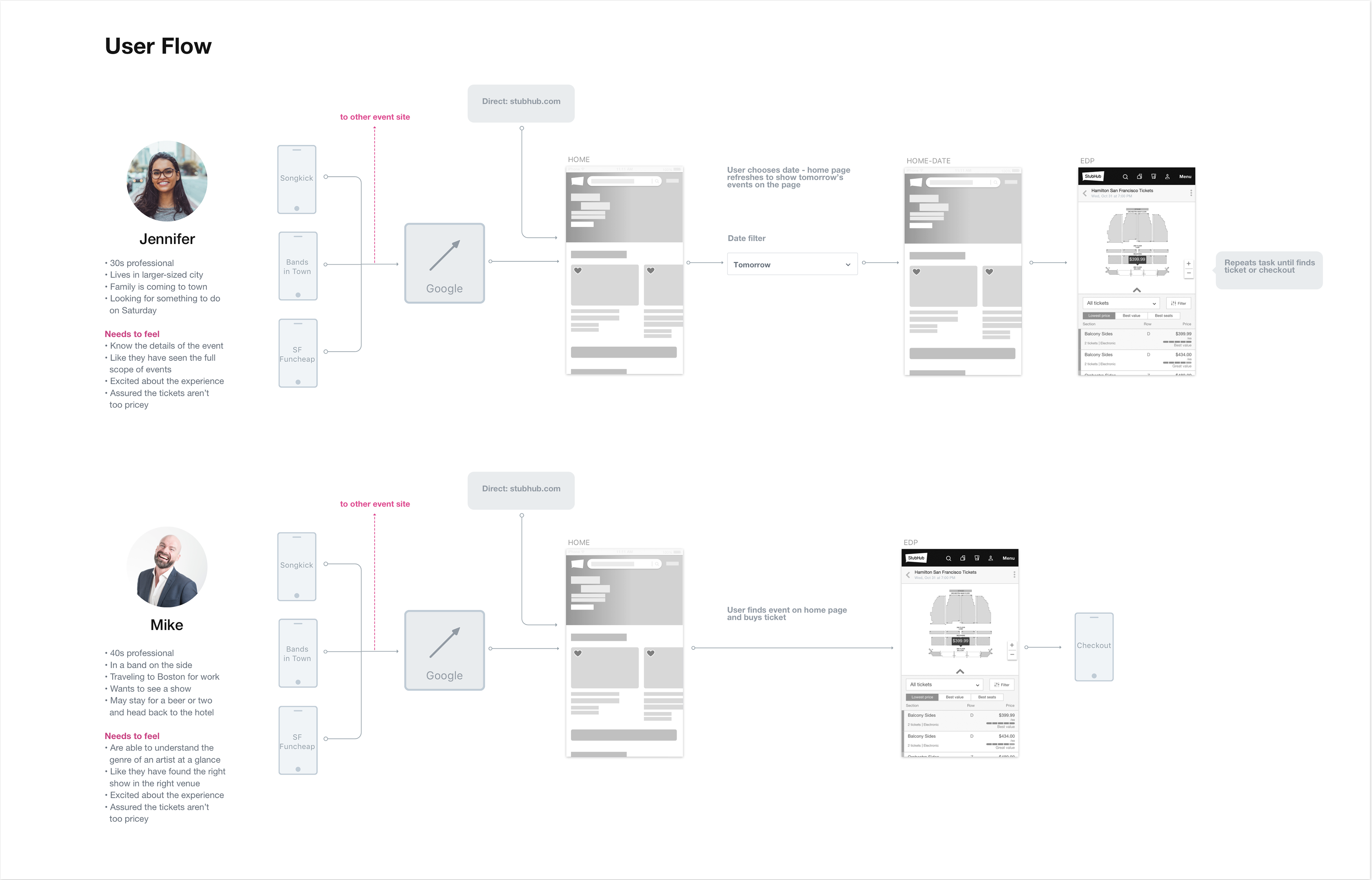 We wanted to give the user enough information to make a decision to find out more or to convert, and visual variety to pique users' interest.
The explorations consisted of:
• Event details:
Date, genre, venue, and price
• Size:
Contrasting size for event hierarchy and prominence
• Number of cards
• Categories
• Horizontal cards with scroll and stacked cards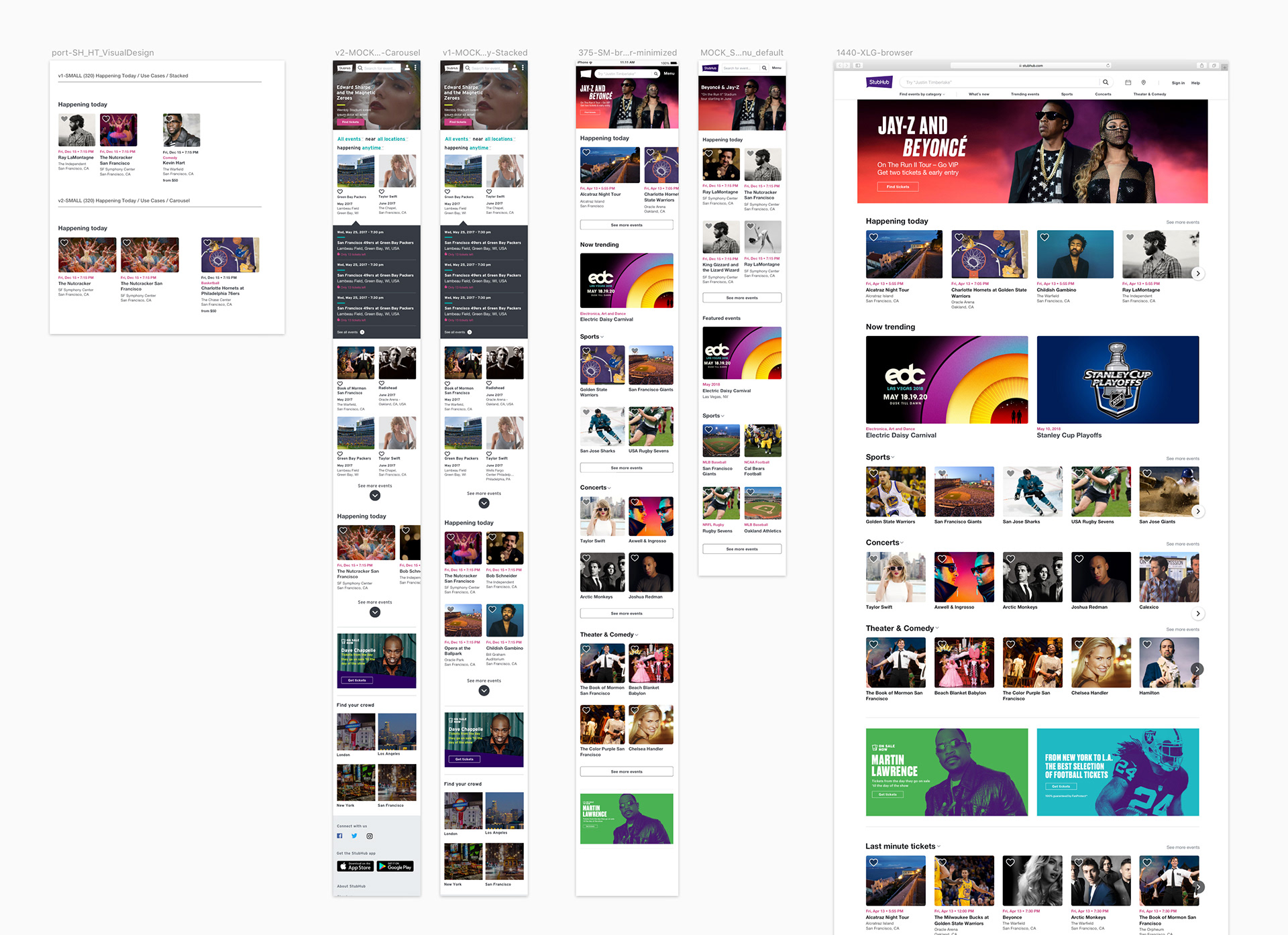 Outcomes for the Event & Performer component
"Happening Today" was the first in a series of flexible, modular Event & Performer components that could be used for multiple types of content across the product, organized and surfaced by time, genre and category, enabling users to easily discover events. 
• Statistically significant lift: 
For users that saw/interacted with "Happening Today" component and getting customers down the funnel to event page on mWeb
• A/B test results:
Two versions tested, both versions had a statistically significant lift. The mWeb Stacked
cards had a slightly higher lift versus mWeb Carousel cards
• Design Systems:
Component follows and informs the design system standards and is the starting point for all components and patterns across the site
• Reduced design & development time:
New component in the design system is flexible and reusable, leading to faster experimentation and faster time to market